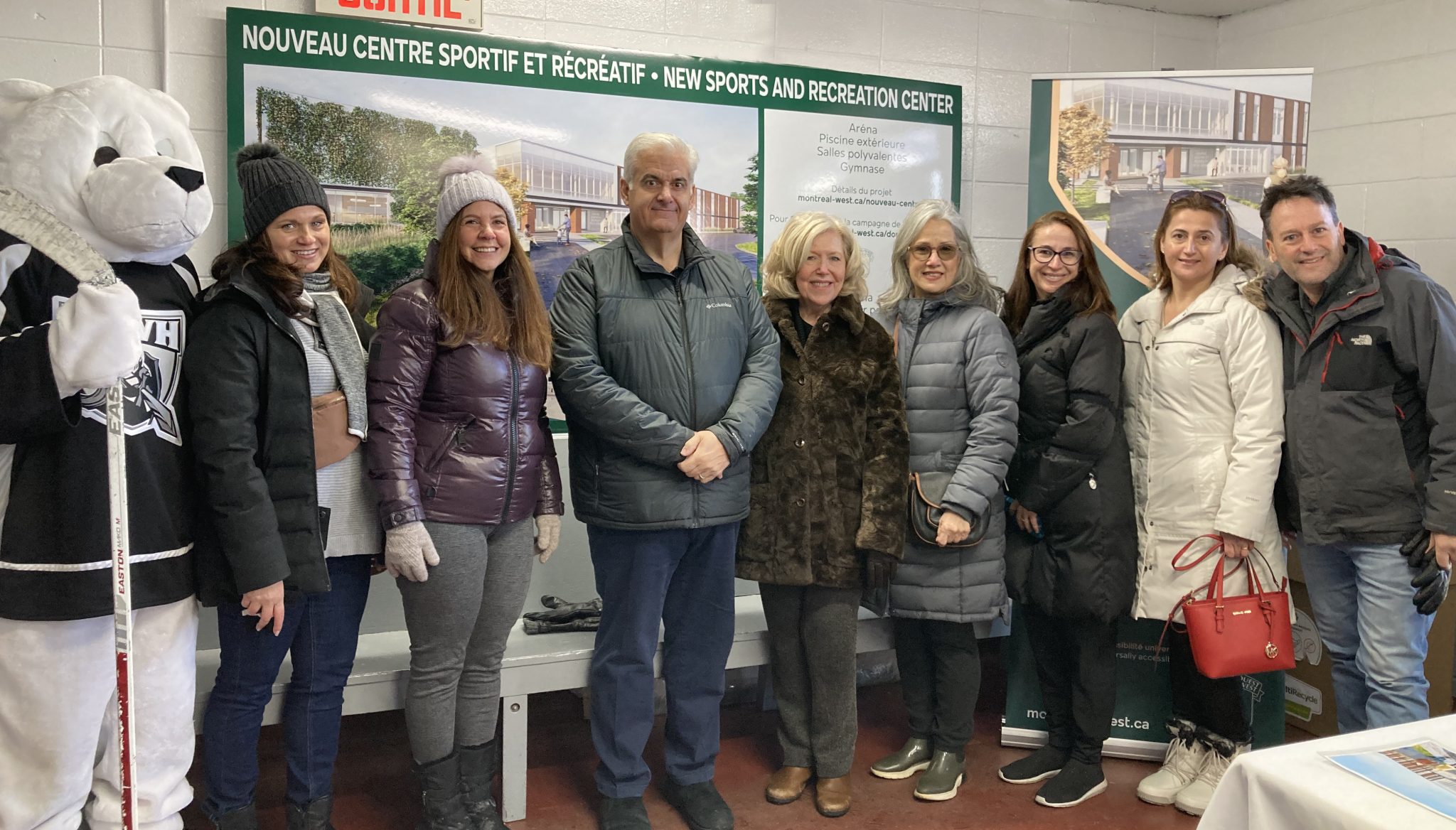 The Town of Montreal West announced the official launch of the public fundraising campaign for its new Sports and Recreation Center at a community event on November 20, 2022. The event took place on the site of the future center.
Mayor Beny Masella was joined on stage by councillors Colleen Feeney, Maria Torres and Lauren Small-Pennefather, Desiree McGraw, Member of Parliament for Notre-Dame-de-Grâce, Andrew Michelin, important donor and member of the Fundraising Committee, and Valentina Todoran, interim Director General to kick off the public fundraising campaign in front of an enthusiastic group of Montreal West citizens.
The Town and the Fundraising Committee aim to raise $2.5 million to build the new Sports and Recreation Center. Launched in 2021, the silent fundraising campaign has already received important support from a number of partners with a total of $1.5 million pledged and donated to date.
The fundraising campaign aims to reduce the tax burden on its citizens, to multiply the sources of financing and to create a sense of belonging among the various partners.
The Town now calls on the community's generosity to help us achieve our fundraising goal. With your support, Montreal West's vision for building a strong and active community will come to fruition!
How you can help
Here are the different ways you can make a donation:
Make a donation by cash or cheque at the Town Hall (50 Westminster Avenue South) or the Community Center (8 Westminster Avenue South)
Attend our fundraising events

2023 events will be announced shortly
The Town may issue tax receipts to the individual or the organization that has made a donation over $20.
For more information about the project: montreal-west.ca/new-center
QUOTES
Beny Masella, Mayor
"This will be generational center; this is what builds a community. It's an exciting project for all of us."
Désirée McGraw, Member of National Assembly for Notre-Dame-de-Grâce
"Montreal West is such an amazing community, and we deserve facilities that are commensurate with the extraordinary community that we are and I really think this new intergenerational and multipurpose center will be a gamechanger for our community. "
Andrew Michelin, Donor and Fundraising Committee member
"Think of what this new center will mean to your family now and to the family you'll sell your house to down the road. It's something permanent, an investment in the future."