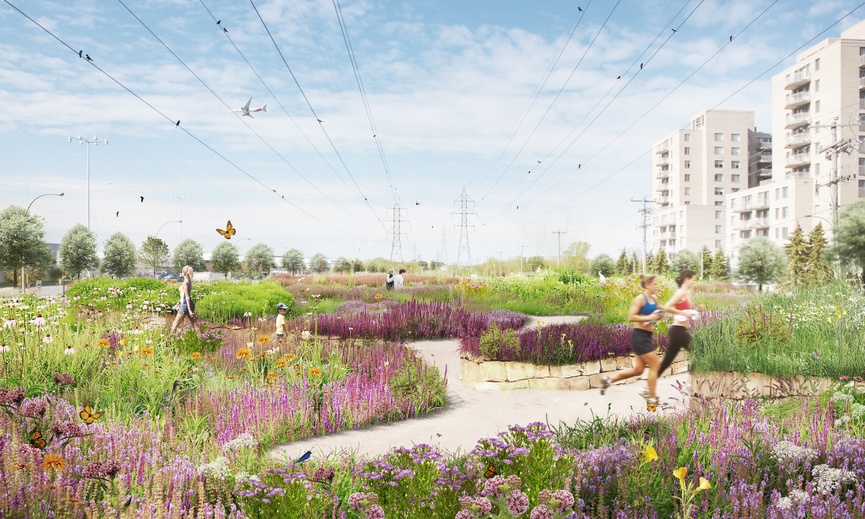 Hydro-Québec, the Ville de Montréal, the boroughs concerned, as well as the cities of Montreal West, Côte Saint-Luc and Mount Royal will work together to support greenery and active transportation initiatives in the transmission line right-of-way between the Aqueduc substation and Saraguay substation. This collaboration is part of a plan to upgrade the transmission system between LaSalle and Saint-Laurent. A green corridor may include a bike bath, pedestrian link, landscaping and recreational facilities. The project provides for
rebuilding the 120-kV Aqueduc-Saraguay overhead transmission line at 315 kV
over a span of 18 km between LaSalle and Saint-Laurent ;
converting three 120-kV substations to 315 kV—Rockfield substation (in Lachine), Hampstead substation (in Côte Saint-Luc) and Laurent substation (in Saint-Laurent).
In the coming weeks, Hydro-Québec will determine the details of the collaboration with each of its municipal partners. The public will be invited to take part in various information and consultation sessions over the next few months. Cooperation among the partners will promote biodiversity, connectivity and sustainable mobility, and improve community life for residents.

The Aqueduc-Saraguay project is estimated at over $500 million. The project involves replacing aging equipment, maintaining the system's reliability, meeting future electricity needs and supporting Montréal's economic development.

The project is in its initial stages, and the current plan is to build the transmission line in the existing right-of-way. However, the line route may be optimized at a later stage of the project to mitigate its impacts according to technical, economic, environmental and social criteria. The line and three substations will be commissioned progressively from 2023 to 2026.

Project Web site: www.hydroquebec.com/aqueduc-saraguay/en
Source: HydroQuébec press release
Open House
Residents will have the opportunity to meet with the Hydro team to learn more about the project and to ask their questions. Details will be confirmed shortly.
Contact us
Please fill out the following contact form with your questions and/or comments about the Aqueduc-Saraguay project and we will get back to you as soon as possible.
Image source: Corridor of biodiversity project, Borough of Saint-Laurent